You want to quickly record how long you have worked on a task before the next appointment or before you leave work? Or you want to at least document that you worked on it? Try the quick entry!
In the task click on the 🕒 icon. Then select one of the predefined time periods: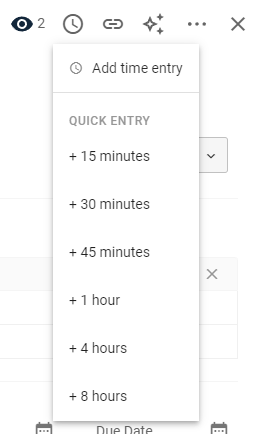 The dropdown will close and an entry with the most important information has been created in the background:
You will be specified as the creator.
The current date will be set.
The predefined time period is recorded as the duration.
The task will be selected.
The project of the task will be selected.
The entry appears in the overview of the time entries for the task and can be edited there, as well as via the time reports (main menu item Times > My Times or Reports), e.g. if you want to add descriptive texts to your work afterwards.