Combine smenso with Microsoft Teams
Extend Microsoft Teams with smenso with features like the timeline, task management, status reporting, resource management, cost controlling and more. The smenso Microsoft Teams app is available in the official Teams App Store (AppSource) and can be added as a tab in Teams channels.

Many of smenso's features can be used this way directly within Microsoft Teams in the project context and channel context, including: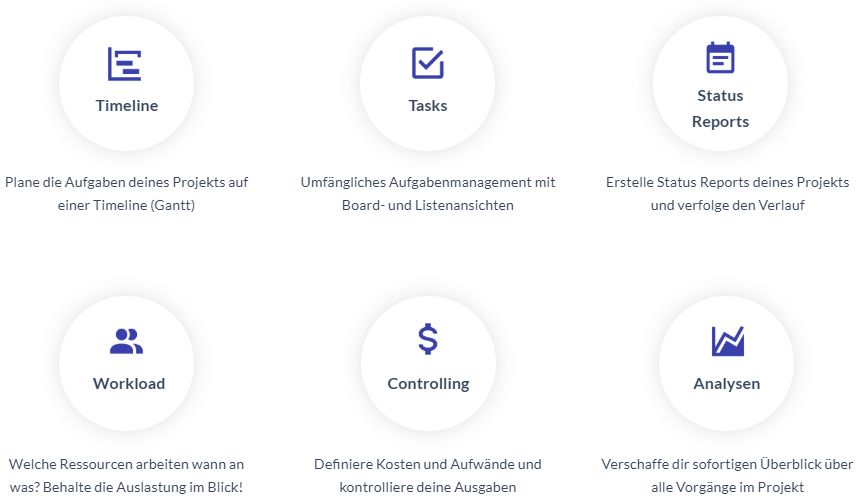 General functionality of the smenso Microsoft Teams app
We assume that a channel in Microsoft Teams corresponds to a project. Under this assumption, the smenso Microsoft Teams app is added as an additional tab in Teams channels, alongside the default "Posts" and "Files" tabs.
The tab can be named anything you want.
You can then choose what you want to see in the tab.
Option 1: Ein ganzes Projekt mit allen Unterseiten (Übersicht, Liste, Board, Timeline, etc.)

Option 2: Nur eine Unterseite eines Projekts (z.B. nur die Listenansicht eines Projekts)
Note
Not all smenso features are available in the smenso App for Microsoft Teams. Restrictions concern e.g. overlapping portfolio views, time evaluations or overlapping task views (My Tasks (Board), All Tasks (List)). These functions are only available in the web app.
Add smenso as a Microsoft Teams App (Microsoft Teams App Store)
A selected smenso project can be added to a Microsoft Teams Channel as a tab.
1. Open Microsoft Teams.
2. Select the plus symbol + in a channel to create another tab

3. Search for smenso and select the app.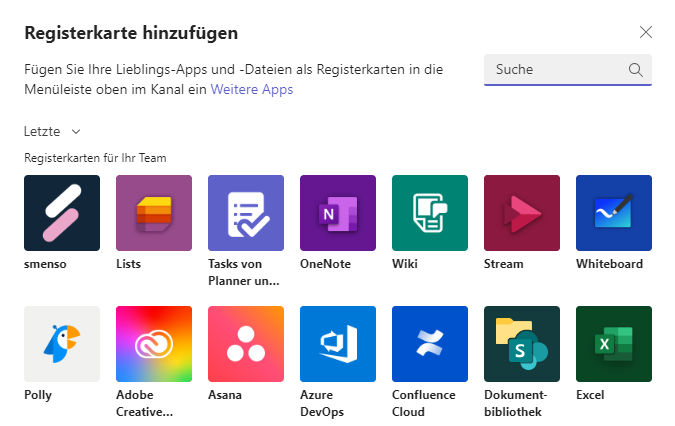 Alternatively, you can search for smenso via the Apps menu item in the left-hand navigation area of Microsoft Teams and decide whether it should be added to a team or a chat/group chat.



4. Another dialogue window opens. Enter your smenso domain here (without leading https://) and then select Log in.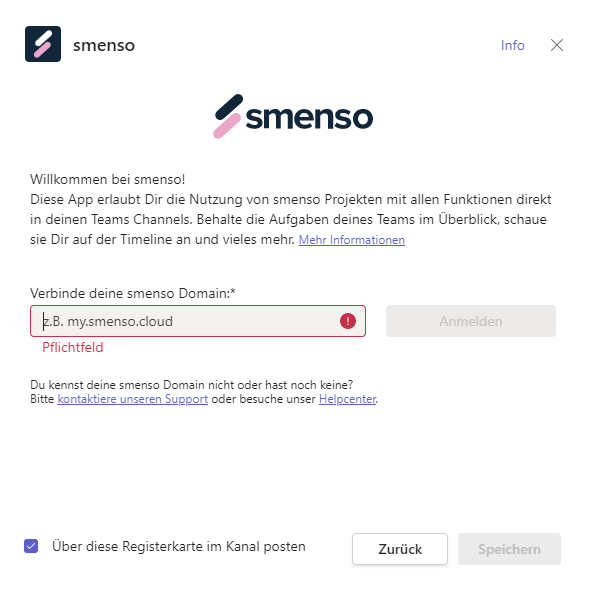 5. For authentication, log in as usual with your smenso account in the next dialogue.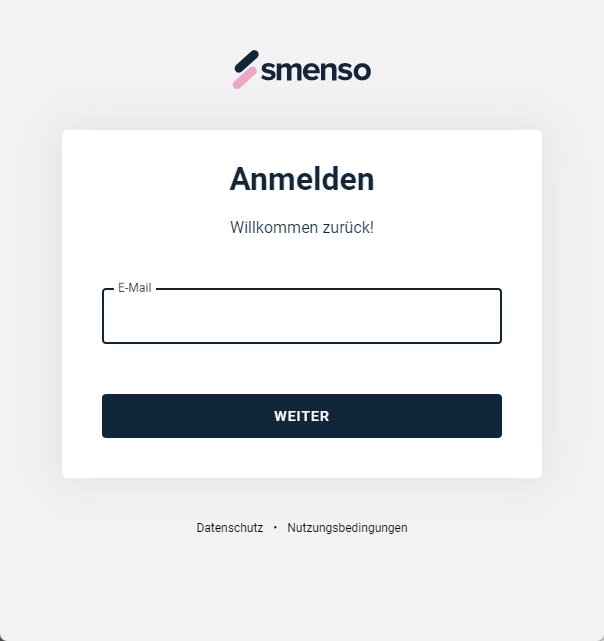 6. Now select the desired project: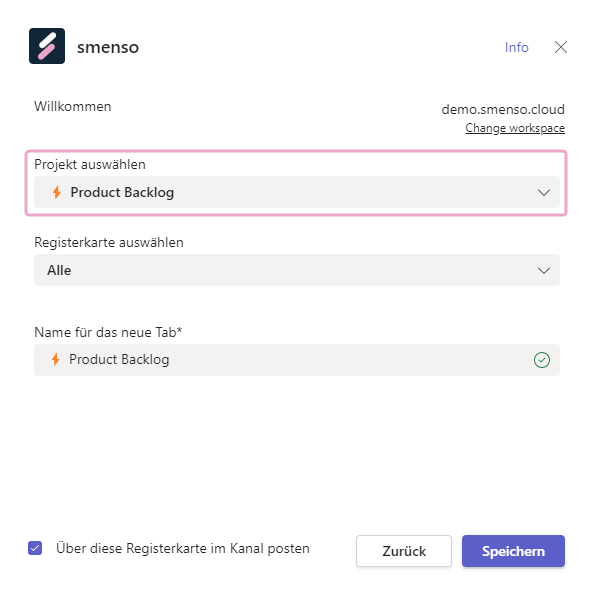 7 .In addition, select whether the entire project (with all submenu items) or, for example, only the list view should be inserted from the smenso project: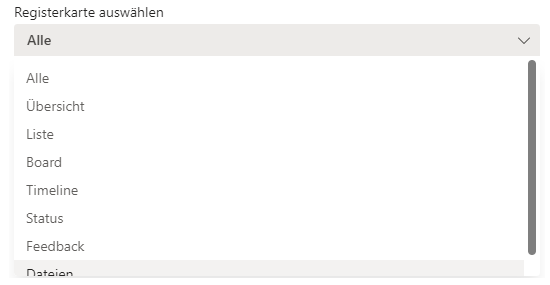 9. If necessary, give the tab its own name.
10. The selected project opens in a new tab and you can edit the project as usual.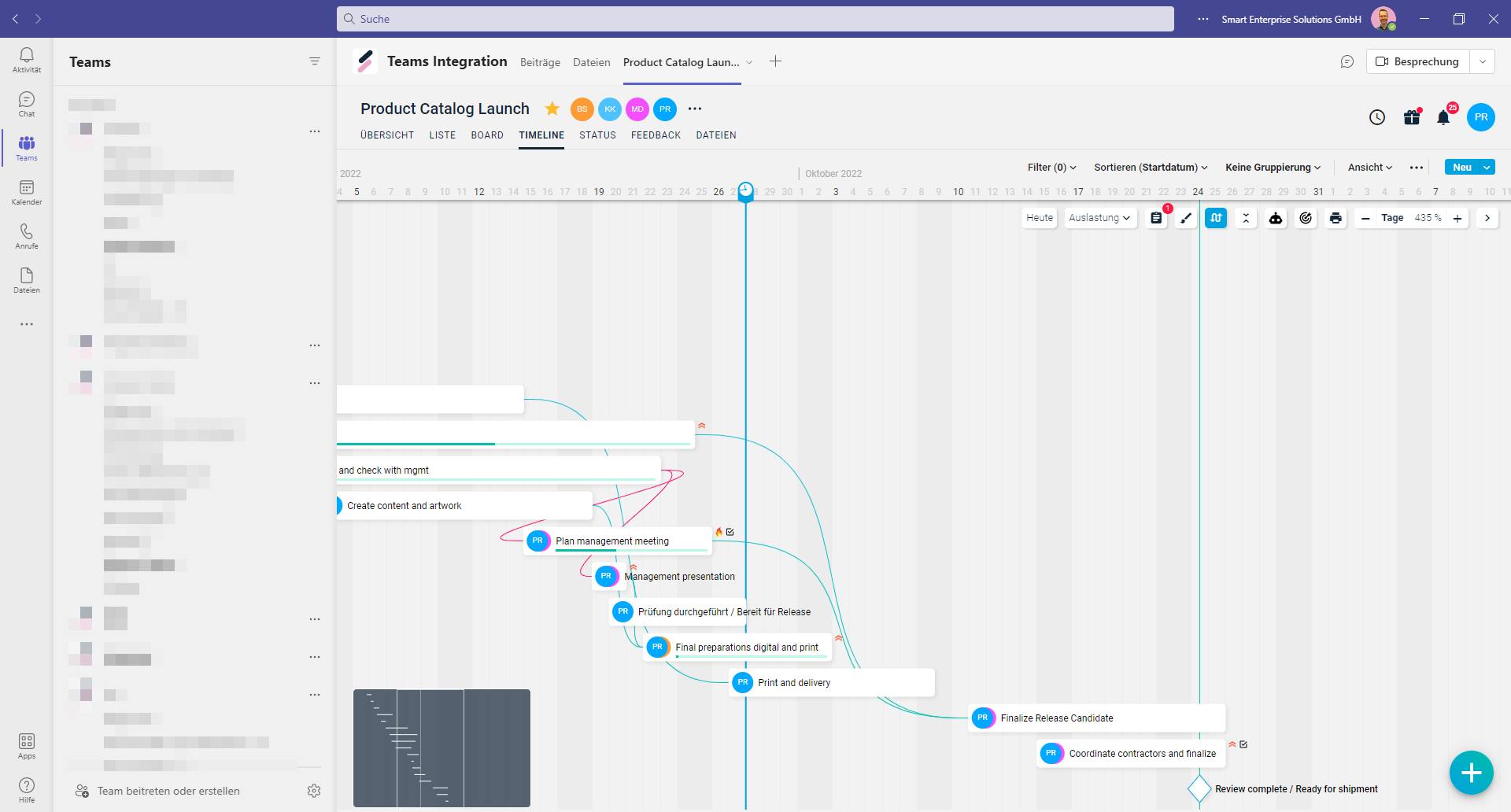 Please note that after adding a specific project in a tab, only this project can be used. Other projects can be added in other tabs or other channels. The procedure is the same as described above.
Add smenso as a Teams App (custom app)
In case you get the smenso Teams app from our support as a custom app, you can also add the app as a custom app in Teams.

Note
To add a custom app to your organisation's app catalogue, you need to have administrator permissions for Microsoft Teams. If in doubt, please contact a Teams administrator.
You can add the smenso Teams app in two ways:
As a custom app for the channel only:
It then appears exclusively in this channel. You can add it again in other channels in the same way, but other people cannot simply select and use the app from the app catalogue.
As an app for the app catalogue of your organisation:
This adds the app to the app catalogue of your organisation. This means that it can also be selected and used by other teams in their channels independently, directly from the app catalogue.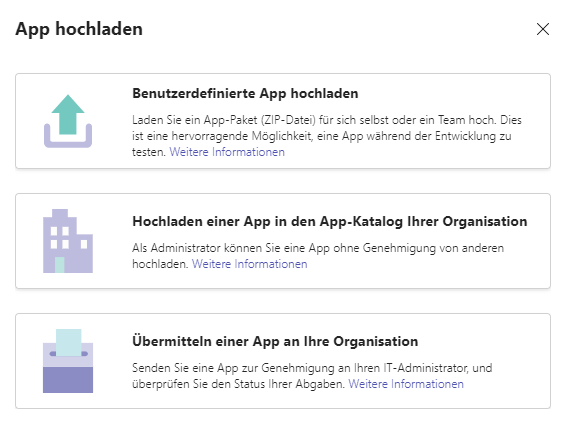 How to add smenso to teams as a custom app:
Click on Apps in Teams (bottom left)


Click Manage Apps:




Select Upload App:




Choose one of the three options and upload the ZIP file provided by our support.




After this step, the app is added and you can add it to a channel as a tab. Continue as described above.
Alternative way: Add the app via the Microsoft Teams Admin Center
You can also add apps via the Teams Admin Center.
To do so, go to Teams Apps > Manage Apps, select the button + Upload new app and upload the ZIP file provided by our support team.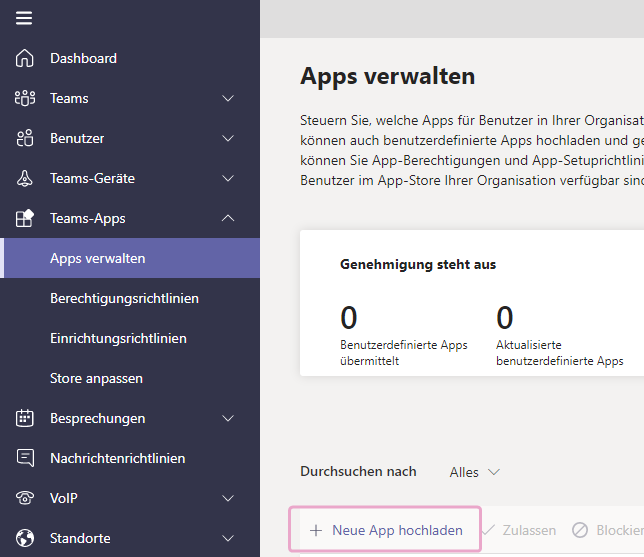 Troubleshooting
It may happen that an app cannot be uploaded easily or that it does not appear in the Teams Channels as expected. The most common cause of such problems is a lack of permissions or organisational settings that prevent the use of third-party apps.
Solutions:
In the organisation-wide app settings, check that the slider for 'Interact with custom apps' is active (under Teams apps > Manage app > Organisation-wide app settings).




Check in the app setup guidelines if the slider at Upload custom apps is active (under Teams apps > Setup guidelines > Global (organisation-wide default)).




Check in the permission policies whether the permissions for custom apps and third-party apps are set correctly: