What is a Flavor?
What we call Flavor is an additional, special structuring level for projects and tasks.
Flavors essentially are user-defined fields that you can name as you like and assign values to. Together with the filtering and reporting options, this opens up many useful scenarios. Your imagination is the limit!
Properties of Flavors
Flavors can be assigned to projects and tasks alike. The procedure is basically the same for both actions, with one difference: For projects, Flavors are added in the master data, for tasks in the task dialogs.
If a project or task has not yet been assigned a Flavor, a button Show Flavor is offered in the dialog to display the Flavor section and add the first Flavor
As soon as a Flavor is added to a project or task, it will appear in the Flavor section above the entry fields.
Important: If no values are defined for a Flavor (list values), it is defined as a label and will be listed in the labels section.
Working with Flavors

Einen Flavor legst du folgendermaßen an:
Open the task dialog or the master data of a project
If no Flavors have been added yet - select the button Show Flavors
Select the plus icon in the Flavor section
Select one or more of the predefined Flavors or add a new Flavor yourself
You can create as many Flavors with different values as you like. Pay attention to a reasonable structuring.
Flavor Settings
When you select a Flavor, a settings icon is available next to the delete button (this button simply removes the assignment to the task / project).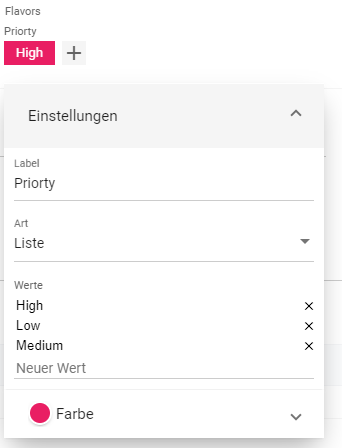 You will find the following options:
Change the description of a label
Under Flavor Type you can choose from three types:

List (Standard type for Flavors, which enables you to define your own values for the Flavor)
Freestyle (transforms the Flavor into a Label)
With heading (Flavor without value, only with a heading and color)

Define a suitable color for the Flavor
⚠ Once created, labels cannot yet be deleted system-wide. This function will be available soon.
Determine value sequences
Determine the order of the values of a flavor yourself. If you want a certain value to be at the top of the list, you can drag and drop it there using the double bar symbol. This way you can determine the order of the values according to your wishes.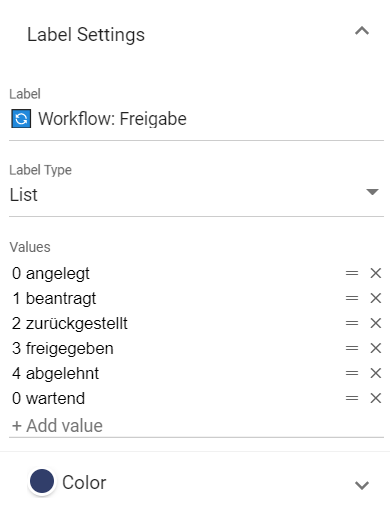 Find Flavors in different areas
Flavors are currently displayed in three places within the app:
In the task dialog / project dialog
Below cards in the board view when hovering / pointing it
As columns in the task list
Flavors can be displayed individually as columns in the list view. Flavors can be selected in the options menu (3-point menu).