What is a label?
With a label you can give projects or tasks a "tag", a label is the classic way to roughly categorize something. A label always has exactly one value.
Once a label is created, it is available system-wide.
Label properties
Labels can be assigned to projects and tasks alike. The procedure is basically the same for both actions, with one difference: For projects, labels are assigned in the project master data (Context menu > Manage project), for tasks in the task details.
If a project or task has not yet been assigned a label, the dialog will display a button Show label to display the label line and add the first label.




As soon as a label has been added to a project or task, it will appear in the label line in the upper area.


Use labels
You create a label as follows:
Open the task dialog or the master data of a project (Context menu > Manage project).
If no labels have been added yet - select the button Show labels.
Select the + button
Either select one or more predefined labels or define a new label yourself by typing in the Add Label area and assigning a name. The name can be changed at any time.




You can create as many labels with different titles as you like.
Label settings
When you select a label, a small menu opens with the following options: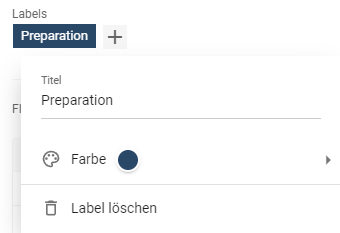 Title: Change the label name here.
Color: Give the label a background color (optional).
Delete label: The button deletes the label permanently. This action is system-wide and cannot be undone.
If you want to remove the assignment of a label only from the current object (a project, a task), point with the mouse to the label and click the then appearing X.

How and where are labels displayed?
Labels are displayed at different places in the system or can optionally be shown or hidden.
In the task dialog:


In the project dialog:




In board views (on mouse-over):




As a column in list views in the project and in the portfolio (may need to be actively shown):


Filter / search for labels
More information about the filter is available here ↗️ ️
Tasks or projects with active labels can be filtered from any views using the filter.
In list views, labels can also be searched and filtered using the quick search: