In order not to lose e.g. a once created column selection in the list, or a certain filtering, you can save the views that you're currently seeing as your personal custom view. This saves time the next time you open a view. Learn more about this here.
How can I share my saved view with others?
You can share your own custom views with others in the team, so that you always look at the same list view when you talk about it, for example. There are several ways to share a view.
Copy & paste the link to a view
The easiest way to share a view is to copy a link to the view and share it. Other registered workspace users will be able to open the link.
Click on View
Next to the view you want to share, a 🔗 icon appears (when hovering)
Click the 🔗 icon - the link is copied to the clipboard and you can pass it on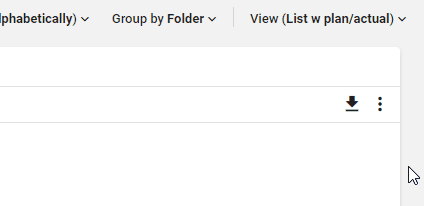 The Share view dialog
The Share button (
icon) will take you to the Share view dialog.

Shared (with everyone in this workspace)
You can share your saved view with the whole team, meaning all registered users in the workspace. To do this, proceed as follows:
Choose the option Shared
Confirm with Save
Your view will now appear in the View menu of everyone (including yourself) in the workspace in the category Workspace views and it will be marked with a icon.


Shared with everyone in one or more selected project(s)
Another option is to share your view with everyone who's participating in one or more selected projects.
Choose the option Shared in projects
Open the menu Select project
Now select one project or several projects in which you want to share your view and confirm with Save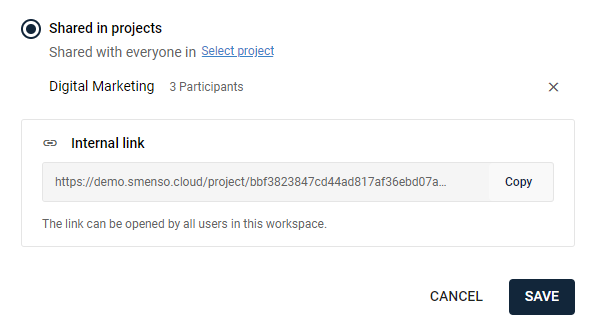 Copy internal link
The internal link in the Share view dialog behaves identically to the 🔗 icon in the View menu. You can share this link and it can be opened by anyone registered in the workspace. Optionally, this user can then also save the view for himself under his views.
This way, a view can be shared without directly making it visible to several participants or everyone in the workspace.