Some tasks can be comprehensive, so splitting them into several subtasks may be useful. To make this possible, you can create related subtasks for a task. To do so, click on + Add subtask in the task dialog and confirm your entry by hitting Enter. This way you can break down larger tasks into smaller subtasks which are displayed in the form of a checklist.

You can use subtasks as a simple checklist. But if desired, you can also use the person icon to assign subtasks to team members and distribute responsibilities. You can determine the order of the subtasks by drag & drop.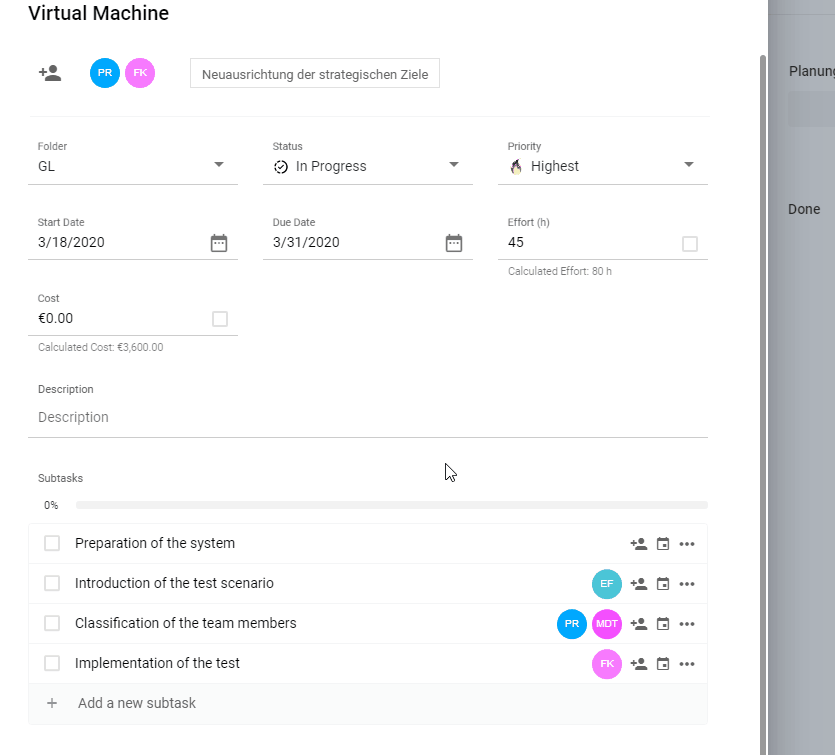 If a subtask is assigned to a team member, it appears as an independent task in the My tasks area of the respective users and can edited in full - including priorities, deadlines, etc.
You can set subtasks to done by activating the checkbox. The progress bar shows the progress of the subtasks in percent.

If a subtask's status is changed to done in the corresponding dialog, the checklist will be updated.
Edit subtask (extended)
The subtask can be edited via the 3-dots. Clicking on Edit subtask opens the familiar task dialog. The only difference to the normal task dialog is that no further subtasks can be created. However, subtasks can be scheduled separately or prioritized differently, a suitable description can be entered or files can be added.

Convert subtask to task
Sometimes you might want to convert a subtask back to a task again.
A subtask can be converted to a normal task via the 3-dots-menu > Convert to task. The task will be saved in the background and can be found in the task view of the respective project. It will be removed from the checklist.
Please note that it may be necessary to refresh the page (F5 key) to display the task in the task view.

You can also remove a subtask from the checklist using the 3-dots-menu by selecting Delete.