Don't feel like assigning tasks to several people at once? Unsure who to assign a task to? Assigning multiple people to private projects at the same time?
With Teams in smenso Cloud, you can create groups of people that you can assign to projects or tasks, mention in comments via @mention, and add as observers altogether!
For example, you can create a "social media" team if you're not sure who to assign a social media post task to. Assign the task to the entire team!
Or mention a team via @mention in a comment and the entire team will be notified.
Please note: Only owners and admins can create teams and add/remove members.
How to create a team
Click on your profile avatar (top right)
Go to Manage teams
Hit + Create new team
Name your team
Add members to your team (workspace members only)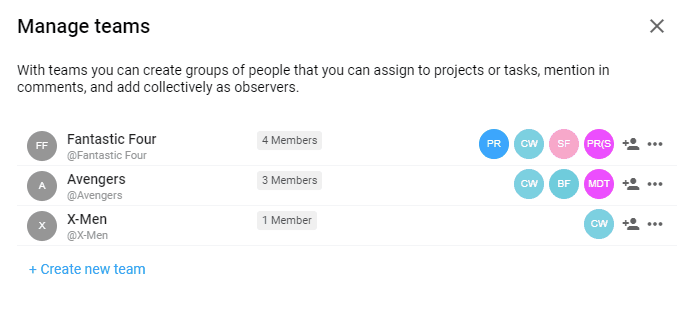 You are involved in several departments or groups? No problem - there are no limits to how many teams you can be a member of.