smenso users can take one of four roles within a workspace: Admin, Member, Restricted Member, Viewer. In addition, there is the organizational role Owner, as well as the special role Guest.
How to assign roles:
As an owner you can set roles of members/guests. This is possible both during the invitation process and later in the Admin Center. You can find it here:
Open the Avatar menu at the top right edge (or navigate to https://admin.smenso.cloud)
Find the option Personal Settings: This is is a jump to the Admin Center. Depending on your role you see either "only" the personal settings, or - as owner - further settings for the administration of the organization.
Under Members you get to the overview of all members of the workspace.
In the Role column you can assign the respective role. The role will be immediately active after selection.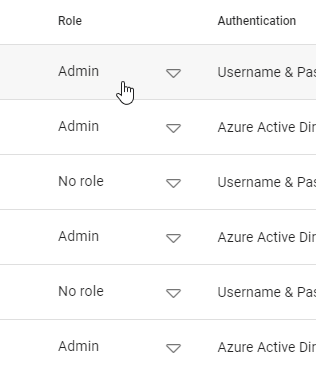 Admin
Admins can be entrusted with the administration of the workspace.
Admins can:
Advanced editing of projects, e.g. archive, set inactive/active, define as template, delete.
Change workspace settings, e.g. manage portfolio folders, manage teams, manage workflows/statuses
Manage advanced flavor types (e.g. open formula editor/edit formulas)
Delete comments
Delete published status reports
Member
Members have access to most of smenso's features, they are allowed to create things and also delete things (everything except projects).
Members can:
Create projects, tasks, status reports
Delete things (everything except projects)
Manage projects and change project settings, e.g. also set projects private
Create and manage labels/flavors
Export and import projects/tasks
The only limitations of this role are in the advanced management of projects.
Restricted member
Restricted members can collaborate with the team and take over tasks in projects, but have less extensive permissions. The role is essentially intended for working with tasks within a project.
The following limitations apply:
Cannot create projects
Cannot create/manage labels/flavors
Cannot delete objects (tasks, projects, files)
Cannot create status reports
Cannot modify project master data or manage projects
Viewer (read-only)
Viewers are people who have read-only access to workspace content and projects. However, they generally have access to all public projects/content or private projects to which they have been added.
One exception applies: they are allowed to comment.
Owner (Organization role)
Owners are responsible for and can manage the entire organization and workspace (or multiple workspaces, if applicable). Owners can:
Add new members, manage roles and remove existing members
Invite guests or convert guests to full members or vice versa
Delete workspaces permanently
Transfer or give owner rights to other members or take away the rights
Manage subscription (coming soon)
The person who first created a workspace automatically becomes the owner of the organization. However, owner rights can be transferred. There can also be multiple owners.
Owner rights for other members of the organization can only be granted by owners. We do not recommend giving too many people owner rights because these rights are very extensive.
This is how you can define additional owners in the organization:
Navigate in the Admin Center to the tab Details
In the table select the tab Members of the organization.
In the row of the person you want to give owner rights to, open the the 3-dot menu and select Set as owner.


Special role guest
Guests are people you do not want to give full access to your workspace. The main differences are:
Guests have access only to private projects they have been invited to by a member, admin or owner
Guests do not have access to public projects, they also do not see public projects
Guests cannot create projects
Guests cannot access or change project settings. The Settings tab in the Manage Project dialog is hidden for guests.
If the appropriate permissions are granted, guests can participate in the projects they have access to, analogous to the regular (member) roles as Guest, Restricted guest and Read-only guest. Roles for guests can be managed separately.
FAQ about guests
How many guest seats are available?
The number of guests you can invite is limited to 50% of the paid seats. For example, if 10 paid seats are licensed in a subscription, 5 guests can be invited at no additional cost. If this is not enough, please contact our support.
Who may be invited as a guest?
Only people outside your organization may be invited as guests.
Can guests be converted into members?
Yes, guests can be subsequently converted into regular members and vice versa, as long as enough seats are available.