These settings are visible only to owners.
Under the main menu item Details (in the Organization category) you will find a detail page with organization and workspace settings.
Besides the possibility to give your organization a proper name (e.g. the official company name), you can view two tabs here:
Workspaces
Here your workspace or - if there are several in your organization - your workspaces are listed with the respective available (paid) seats. This view is purely informative.
Members of the organization
Here all members of the organization are listed (across all workspaces - if there are more than one in your organization.)
Make other members owners
In the Members of the organization list you can give ownership rights to other members by selecting Set as owner. This gives the member owner rights, i.e. he/she can manage the organization and manage members - just like you, who already has this permission.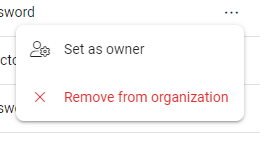 Similarly, as an owner, you can revoke the ownership rights of other owners. You will then become a regular member again.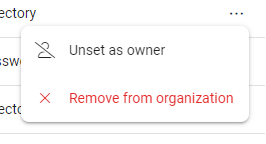 Remove members from the organization
In the list Members of the organization you can select to remove members/guests completely from the organization. This means that the members/guests will lose access to smenso and will also no longer be listed among the deactivated members/guests.
With this action, members/guests are completely removed and cannot be restored (!).