Convert a task into a subtask
You can convert tasks into subtasks, assigning them to another main task.
Find the Options menu [...] in a task and select Convert to subtask.
In the next dialog you can search for tasks in the project to which you want to assign the task. A suggestion list shows you the recently opened tasks.


Turn a subtask into a main task
Subtasks can be converted to a main task in two ways.
Either in the subtasks section within the task details by clicking on the 3-dot menu of the subtask, select Convert to task.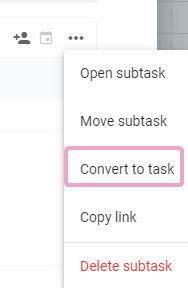 Or, if you are in the detail dialog of a subtask, click on the 3-dot menu in the upper right corner and select Convert to task.