What you need

Folder 1 | Folder 2 | Folder 3
---

Change Request
---

Workflow: Release: 0 created | 1 submitted | 2 postponed | 3 rejected | 4 accepted
---

-


Details
A change request procedure should document changes in the project and make decisions traceable. After all, there are changes in every project.
To implement these changes as good and as easy as possible, you will find here a best practice approach to implement changes in smenso Cloud.
To turn tasks into amendments
Create a new folder in the task area and name it

Change Requests

.
Each task is an amendment. It is best to give the task a prefix with a sequential number, e.g. [CR01] for change request no. 1, and a concise text that describes the content in short words, e.g. [CR01] - change project goal
Describe the amendment:


ASelect the resource responsible for processing the change request.
Select the label

Change Request

Select the Flavor Workflow: Release as described in the project proposal or project idea and set the workflow status
Enter the defined measures as sub-task


Each subtask can be described in detail if required
Add a responsible resource to each subtask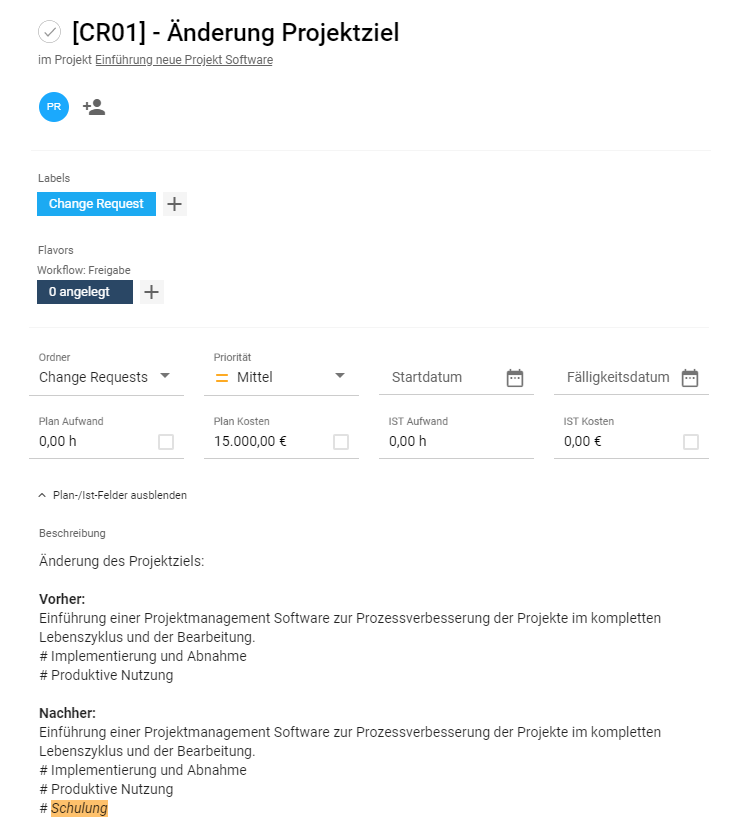 Typical contents of a change request:
Description of the change: What is to be changed? Before / After.
Reason for the change: Why should something be changed?
Effects of the change: What happens when the change is implemented?
Risks of the change: Can anything go wrong?
Documents to be changed and persons to be informed
List view
In addition to the board view, changes can also be viewed and edited directly in the list view. To easily edit the changes, the list view can be filtered by the label change request.
Cross-project change requests
In smenso Cloud it is possible to display all change requests across projects. Via the project portfolio projects under the tab Tasks you can filter by the label Change Request. The change requests can also be sorted and grouped across projects.