What you need

Folder 1 | Folder 2 | Folder 3
---

Baseline
---

-
---

-


Details
A time schedule is indispensable for a project. Tools like MS Project even start directly with creating a schedule.
We consider the schedule to be an absolutely important tool, but only if everyone understands it! Take a look at the following article to see the possibilities of the
timeline
.
We are sure that you will love the Timeline as much as we do 👌
In addition, here is a valuable tip on baselines.
How do I implement a baseline in smenso Cloud?
Currently there is no dedicated baseline function in smenso Cloud. But to create a typical baseline for the project schedule we recommend the following procedure:
Duplicate the project in the portfolio overview via the 3-point menu (all options except "Assigned persons in tasks", otherwise the responsible persons have the duplicate tasks)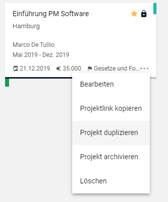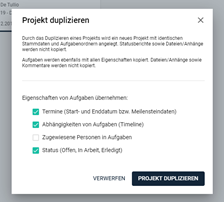 You rename the project to e.g. [BL1 - MM/YY] - project name (BL = Baseline) and add a label "Baseline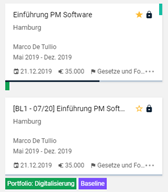 To prevent other users from seeing or changing the baseline, we recommend to authorize this baseline project only for you.
Now you can easily see the differences between the baseline and the active project using the Portfolio Timeline and the Big Picture view.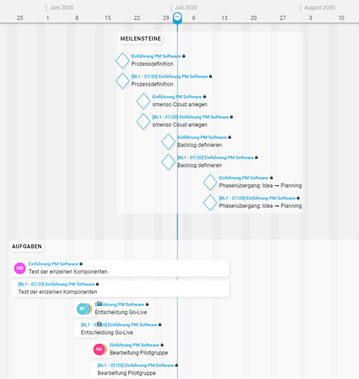 Tip:
If you want to have a certain selection of projects in the view, you can of course create a label with your shortcut, after which you can easily filter at any time. Alternatively, you can use the project filter in the Portfolio Timeline and Analysis to select individual projects.