With smenso Cloud you create projects with all master data relevant for your company quickly and easily. By default you will receive the following fields:
Find out more about how to setup a project here.
With the master data fields, especially the fields you can group such as Project type, Project phase, Location and Project Manager, which can also be renamed and thus used for a different purpose, projects can already be easily categorized.
For advanced categorizations, smenso Cloud offers Labels and Flavors. This is the fastest and easiest way to make adjustments to your project master data.
With a Label you can give projects or tasks a "sticker", a Label is the classic categorization possibility which can be used for many purposes. A Label has exactly one value.
What we call Flavor is an additional, special structuring level for projects and tasks. Flavors are user-defined custom fields that you can name as you like and assign any value to them. Together with the filter and evaluation options, this opens up many useful scenarios.
Here are some examples of Labels and Flavors: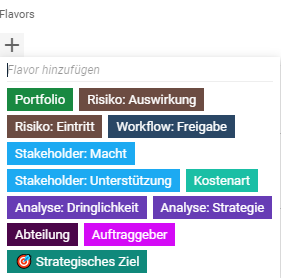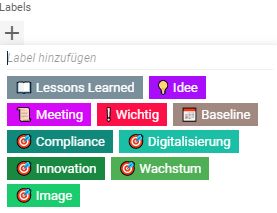 💡 Tip: The icons shown in these screenshots are standard Windows icons that you can insert with the key combination Windows key + dot.