Improved Timeline
"Handles"
We have improved the function for shortening or lengthening a task in the timeline. When you point to a task with the mouse, two "handles" are now displayed on the left and right edge of the task.
Display of priority
The priority of a task is now visible at a glance, provided it is "High" or "Very High".

"Sticky" groups
If you use the grouping function in the Timeline, e.g. by people (workload), by phase or by status, you can now keep an eye on the grouping titles horizontally and vertically at all times, no matter how far or how scrolled.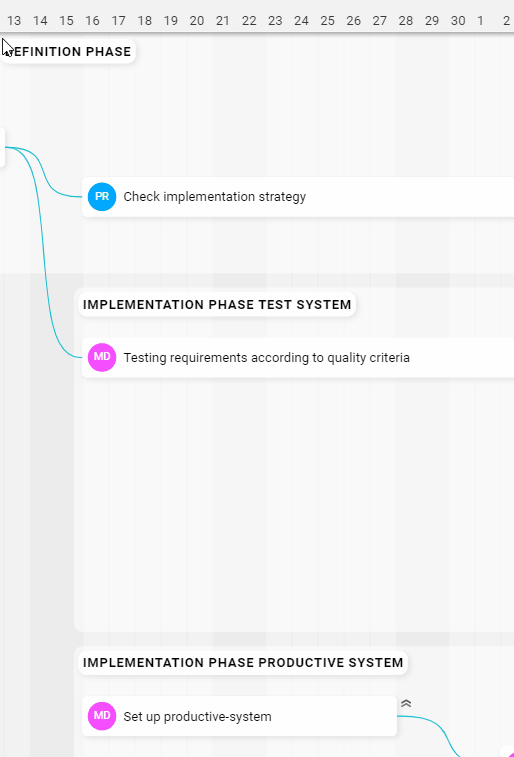 Visual indication of tasks with priority "Very high
Very high priority tasks are visually highlighted in the timeline every 40 seconds.

Minor optimizations in the presentation of milestones were also made.
Drag & Drop function for e-mails from Microsoft Outlook
E-mails from Outlook can now easily be attached to a task as an attachment directly from Outlook via drag & drop in smenso Cloud. Drag and drop the desired email from Outlook into the task dialog. If desired, you can also just attach an email in smenso Cloud using the same function.

Particularly noteworthy is the integration of the uploaded e-mail into the search of smenso Cloud. All contents of the e-mail, as well as the attachments, are indexed and can be found via the smenso Cloud search!
Snackbar confirms actions
A "snack bar" - a small hint dialog - now confirms actions that have been performed, such as creating a task, updating a task or successfully uploading an attachment.
In some cases a link is provided (Show) which directly opens the object in question.

Assign tasks to other projects
Tasks can now be assigned to another project in the task dialog. Simply click on the project and select another project and the task will be reassigned.
Prerequisite: The project must be created.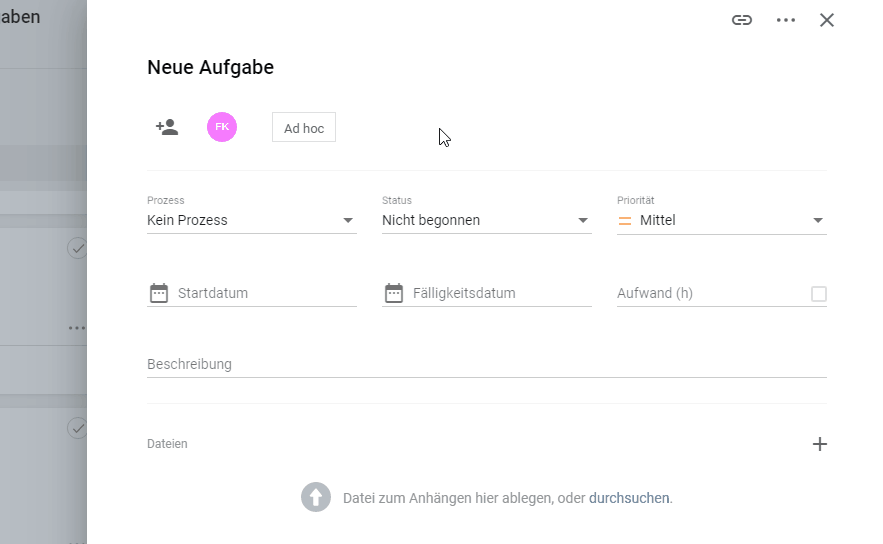 Attach multiple files at once
It is possible to upload multiple files at the same time using the task dialog. This can be done by drag & drop or by using the + and Browse buttons.
Various optimizations for Firefox
For better browser compatibility, various adjustments have been made for the Internet browser "Firefox".
Help and Support Links
You use smenso Cloud for the first time? Do you want to understand basic functions in more detail or do you want to be informed about the latest updates?
Behind the question mark in the toolbar you will find many useful links to our help center. Among other things you can also contact our support.