Exporting/importing of tasks (or projects)
All tasks of a project can now be exported as a whole (in CSV format). Exported data can be edited in MS Excel - and also re-imported. A clever assistant helps you to match the fields. This also allows you to import tasks from third-party systems. In addition, entire projects can be exported and re-imported as well.
Custom views
The default view on tasks in the project or on the timeline is good but a little more customization would be nice? OK!
Configure the views as you like (filter, sorting, grouping, board or list...) and save one or more views as a custom view.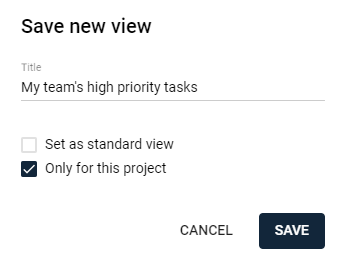 Inactive projects
You want to plan a new project "under the radar" first? Create tasks, plan resources and deadlines and play a little with the numbers? No problem - create the project in the inactive state. You can easily plan the project or simulate variants without sending notifications or other hints to the project team.
@Mentions
Use the @mention to draw a team member's attention to certain things. You can use @mentions in all text fields, e.g. in comment fields or description texts of tasks. Mentioned persons receive a notification about the mention.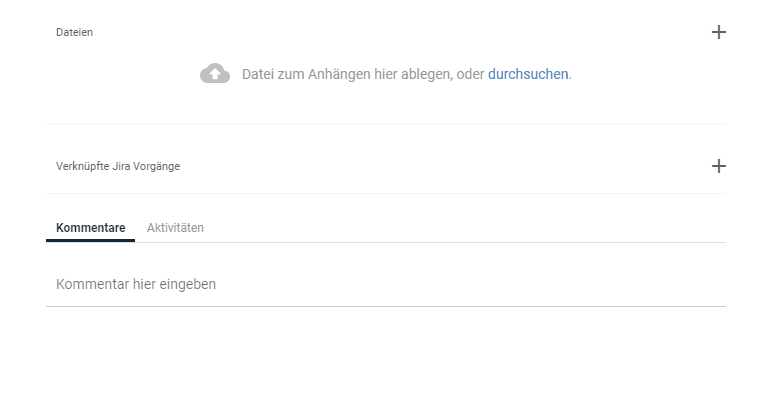 Link to internal objects
In all text fields you can now use the 🔗 icon in the toolbar to create connections to other objects within smenso Cloud, e.g. to tasks inside or outside the current project, to other projects or even to saved files (permissions are taken into account).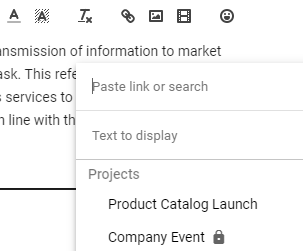 Watch tasks/projects
Curious and interested? Then the watch function may just be right for you. You can now watch projects or tasks to stay up-to-date on any changes and to receive notifications about changes to the project/task.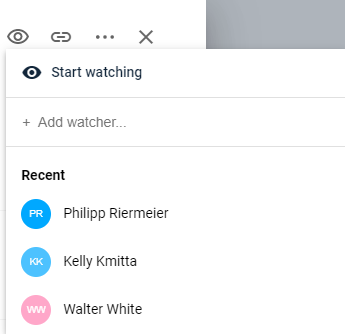 Project feed improvements
The project feed (change log in the project) now shows even more information. All changes of tasks and subtasks, of the project itself (master data) as well as the status reports and feedback are displayed.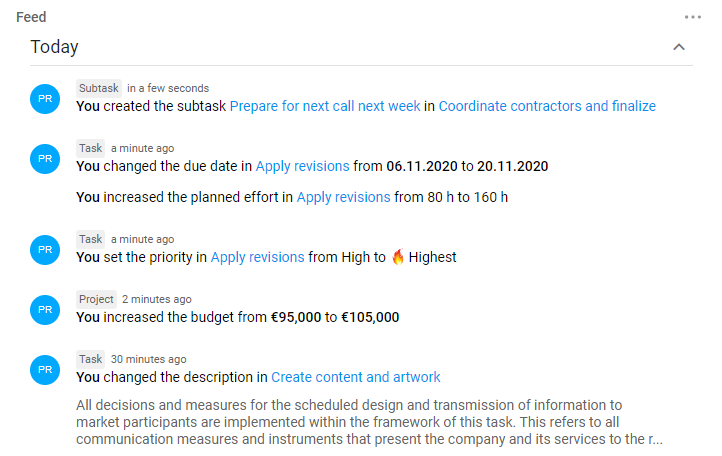 Minor improvements
Improved Comment function:

Some improvements for better readability
Use of the rich text editor for comments
Create/copy a link from each comment, which leads to exactly this comment
Comments can be edited afterwards. the edit action will be logged and displayed in the comment

+ New project button in the main menu for direct creation of a new project
Revision of various context menus
List: The default selection of displayed columns (fields) was extended
The context buttons in list/board/portfolio/timeline views (filters, groupings etc.) have been rearranged
Portfolio: Columns are now movable in the Project folder / Location / Project type groupings
The Project properties have been slightly revised and now display master data apart from the other settings