Hello Summer! ☀
Isn't that reason enough for a nice summer login background? Yeah it is.
And if you take a closer look, you will also notice something in the app 😃

Refreshed task dialog
It is quite busy in the task dialog! That's why we have made some changes in the details.
The Status of a task has been place next to the task title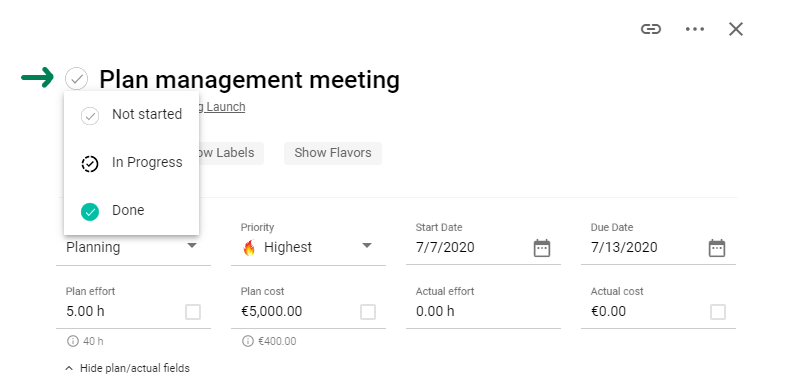 Field additions! We now have planned/actual effort and cost fields - they're hidden by default, from the moment they have content, they will be shown - find out more below!
With labels and flavors, more properties can be assigned to tasks (What? Labels? Flavors? Find out more below!)
The project selection has moved under the task title (but is still clickable, of course)
Labels and Flavors
Structure is important!
Labels and Flavors in tasks and projects allow you to add more properties and structure to your tasks and projects in smenso Cloud.
What is the difference between Labels and Flavors?
With a Label you can give projects or tasks a "sticker", a label is the classic categorization possibility which can be used for many purposes. A Label has exactly one value.
Flavors ... what now? Yes - you can give your tasks flavors now! We named it Flavors, because it gives you very special structuring options for projects and tasks. Flavors essentially are user-defined fields that you can name as you like and assign values to. Together with the filtering and reporting options, this opens up many useful scenarios.
Learn more: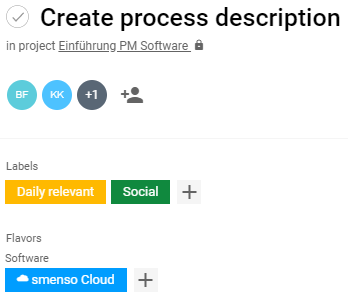 Notifications
🔔 Don't miss a thing.
If you are added to a task by a teammate, you will now be notified! Top right corner!
The notifications will be extended regularly. Next to be added are @mentions in comments as well as changes to tasks you are involved in - and much more!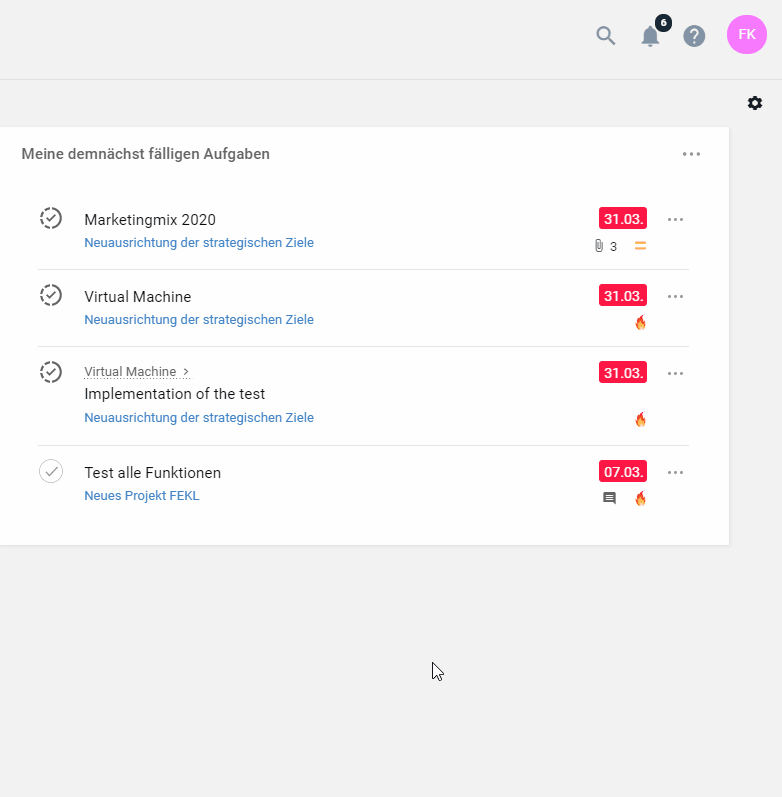 Project Feed
"Dear Diary 📖"
The Project Feed is the logbook for the project, which shows you information about every change within the project*. To make sure the widget is visible, we have adapted the default layout of the widget view.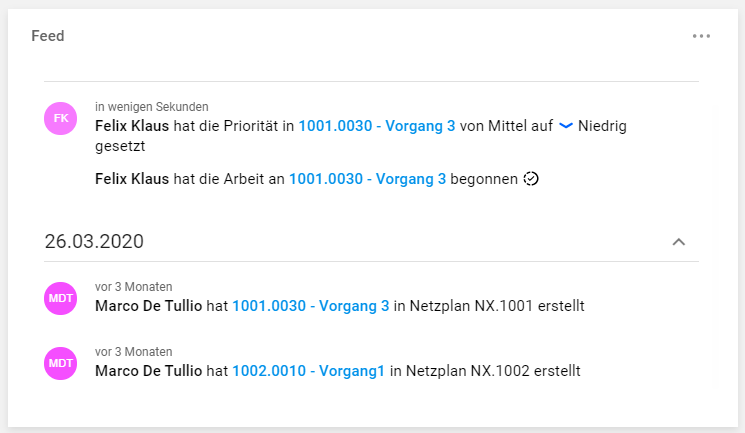 * Currently only changes in tasks are taken into account. Master data changes will be added soon.
Learn more: Project Feed.
Multiproject analysis

📈 Evaluation over all projects!
It's now possible to perform multiproject analyses. The new Analysis tab enables you to filter over a selection of projects and get immediate understanding of the numbers.
Different widgets are available. The Bubble Chart has a special purpose - it is configurable 😊
New fields in tasks for plan and actual values
Finally! Real plan/actual comparisons!
You can now enter plan and actual values for efforts and costs. These fields are of course taken into account in the new chart widgets.

New chart widgets in projects
We have added new widgets! Monthly (planned) cost distribution is available, and existing cost/effort widgets have also been reworked to take into account the new fields for planned and actual values in tasks.
The widgets for
Task Allocation
Costs Plan/Actual
Effort Plan/Actual
are now configurable - the X-axis and title can be selected individually.
In addition, you now have the possibility to individually configure a generic bubble chart. This allows you to select the content that is important to you.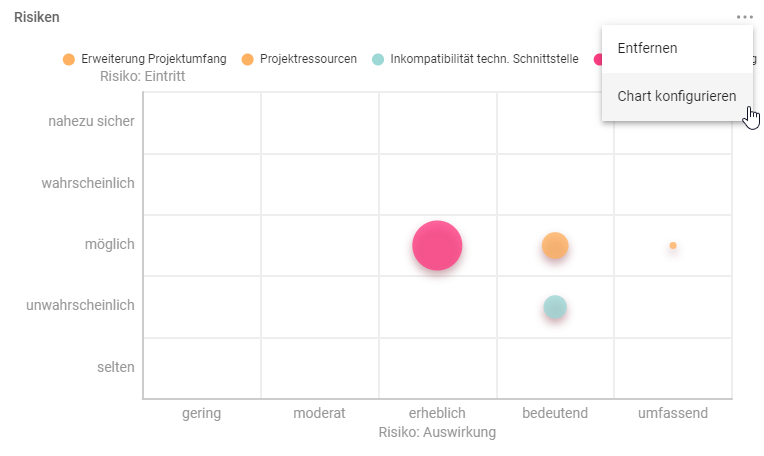 Files view improvements
You can now select multiple files in the files view and either delete them all or download them in a ZIP archive.

Maintain the last view!
Maintain your preferred view!
From now on, filtering, grouping and sorting settings are saved individually for each user. When you return to a specific view, your last setting of filters / groupings / sorting will be maintained. This applies to all views in the app, e.g. also for the board/list view or the arrangement and positioning in the list view of tasks.
Archive projects
💼 Nothing is for eternity
Archive completed projects to make room for new ones. Of course, you can still access the archived projects via filters at any time. And restore them from the archive, too!


Learn more: Archive a project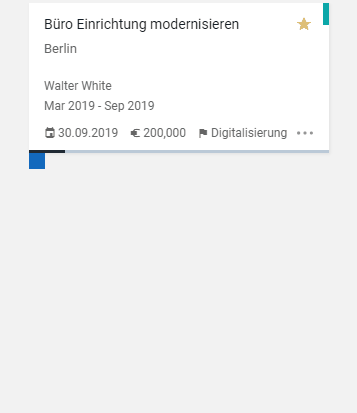 New User Selection Dialog
Sorting is a good thing!
The selection dialog for users now sorts users by different categories, and alphabetically in each section.
Assigned: Users that are assigned in this task are on top!
Project Team: Users who have been assigned tasks in this project
Other Users: All other registered users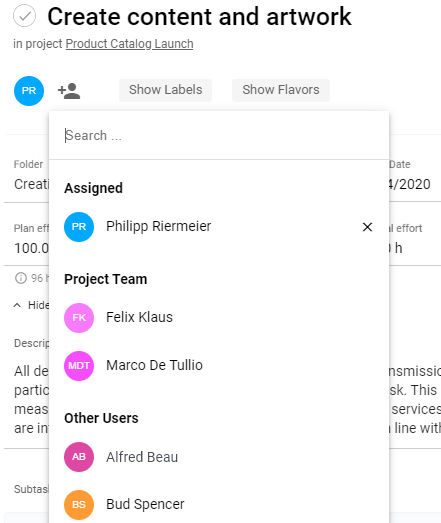 Export tasks as .CSV
[PREVIEW]
In the list view of the tasks there is now the possibility to export the currently displayed list (with the current column selection) to a CSV-file. This gives you every freedom you want to use tasks from smenso Cloud further in Excel.
Atlassian Jira Cloud Integration
[PREVIEW]
A JIRA integration can now be activated per tenant on request.
Learn more: Connect with Atlassian Jira Cloud

d.velop App
👍 Use of smenso Cloud for d.velop customers
Our partner d.velop supports its customers with software for document management and digital business processes in order to develop their full potential by providing digital services that connect people with each other and comprehensively simplify and redesign processes and procedures.
You are d.velop customer? You can find smenso Cloud in the d.velop App Store. Work as usual with your d.velop solution in your browser and start smenso Cloud directly in the d.velop Cloud Hub.
No separate windows, no separate application. Everything at a glance and within your d.velop solution.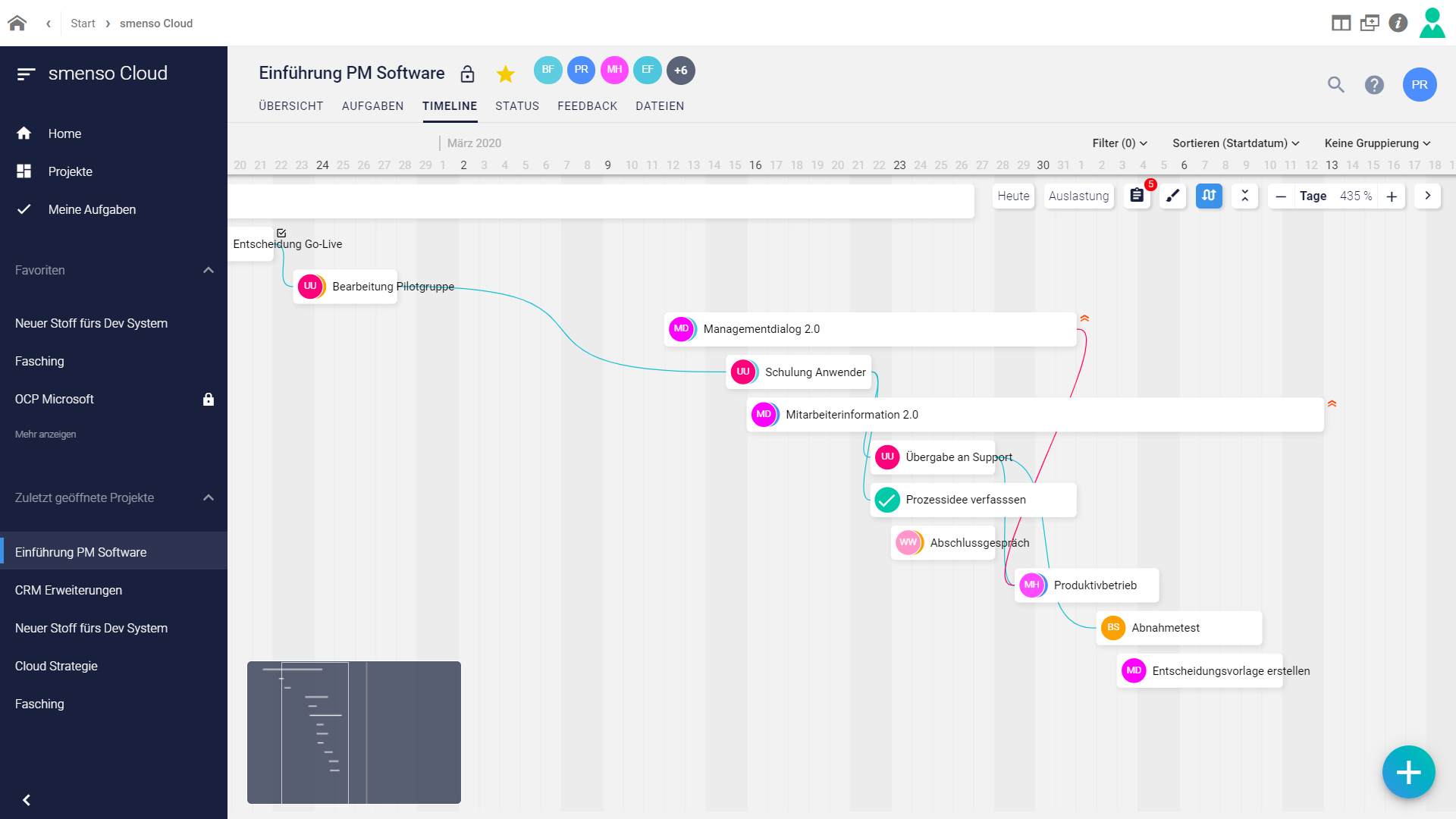 Kleinere Verbesserungen
New default widget view in projects (incl. feed)
Avatars: Display of names when hovering over Avatars in the whole system
Templates: can now be set privately
Tasks:

Copy: The formatting of the description field is now also copied when tasks are copied
Cost/expense fields: Helper texts shortened and supplemented with information icon ('i') for explanation

Delete: In addition to all files, all subtasks are also deleted. A message asks for confirmation.
Creation of subtasks: No more data of the parent task will be transferred.
List view: Has been extended by labels and flavors and has undergone several minor optimizations
Status report:

Click into Off now saves as draft instead of discarding
Dialog underwent minor revisions

File tab:

Multiselection allows download of multiple files as ZIP and multiple deletions
Files can now also be sorted by person

Performance optimizations: Kanban View (Desktop + Mobile)